Calling all Evergreen Artists Association members,
Mountain Foothills Rotary
and other community members!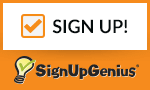 Please help us manage this wonderful event that has been going on for 50 years here in Evergreen. This artist community is part of the heritage that brings visitors here to enjoy our special place in the mountains, yet so close to the city.
Let's welcome our artists from 22 states, and the thousands of visitors that come to enjoy our incredibly wonderful event in the shade of the trees.
Volunteers are invited to the artist dinner.
All volunteers will receive a pretty cool T-shirt, too! Please wear them often!
Our actual event is August 27 & 28, 2016
Other dates and opportunities are also needed.
Learn more and sign up here by clicking on the Sign Up Genius Logo below: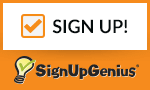 Every year the Mountain Foothills Rotary helps to shuttle our artists! Thank you so much for organizing this.